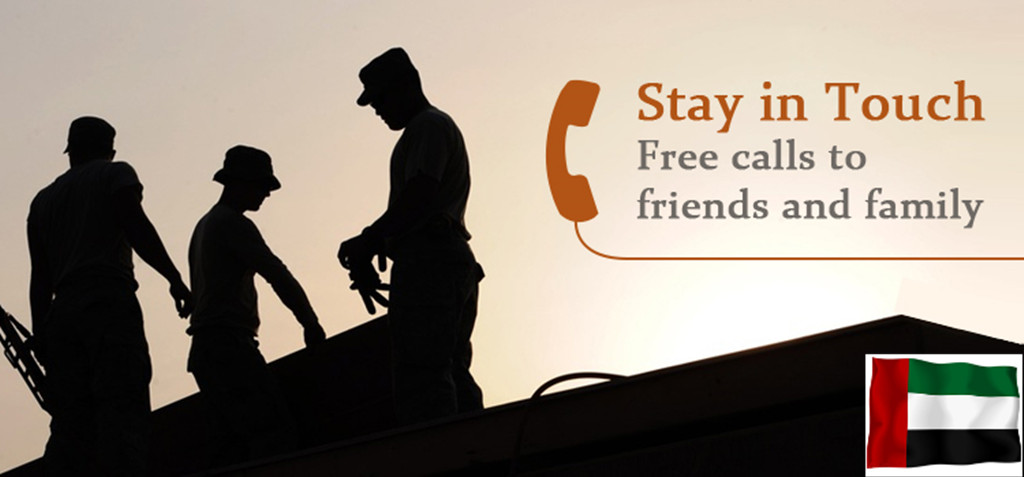 Migrant workers in UAE
The United Arab Emirates attracts a large number of migrant workers from countries such as India, Pakistan and the Bangladesh, with most workers doing labour intensive construction jobs. These are men who make the difficult decision to leave behind their families to come to UAE in hopes of making money to send back home. When they want to call their families, they face expensive long-distance calling rates from local UAE phone companies and communications software, such as Skype, are blocked in the UAE. What can they do to make cheap calls from United Arab Emirates to their home countries?

Cheap Calls from United Arab Emirates
We at Telos try to help families stay connected with each other even when they are separated by thousands of miles. We want everyone to be able to call their wife, children, or parent whenever they want to. Telos's smartphone app especially helps migrant workers make cheap calls from United Arab Emirates. First of all, Telos is free to download for anyone owning an iPhone, Android phone, iPad or tablet. Secondly, you can earn free credits every day and use those credits to pay for calls to any landline and mobile number in the world.

Make it Free
To save the most money on calls from United Arab Emirates, we recommend that both parties download and use Telos for texts and calls. When both parties use Telos, then you get unlimited free texts and calls with each other.

Migrant workers in the UAE face enough hardships and difficulties as it is, communicating with your family back home shouldn't be a problem. With Telos, you can call your family and friends as often as you want, to get some love and support so that you can continue doing your job.